The Value of Security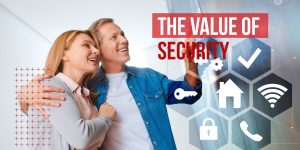 There are hundreds of companies out there selling, installing, and monitoring security systems for home and businesses, and it can be hard to determine what one is the best for you. Before you start making calls, you should ask yourself a few questions first:
Why do I want a security system?
What do I want the security system to do for me?
Is the protection of my property the main focus?
Do I want an automated home/business?
Is surveillance important to me?
Having a good general idea of what you are looking for can help narrow down a few of those companies. Not all security companies are well equipped for automation or surveillance, and there are some that specialize more in those areas, but may leave gaps in your security needs. In a world where information is at our fingertips, researching who will be protecting you should be a high priority. Unfortunately companies will cut costs in different areas to keep profits high and rates as low as possible to get more customers, but are they really looking out for you in the long run? A few questions you should be asking any potential company before your hire them:
Do they have a head office?
You don't want to get stick with an online company. If your power ever goes out there may not be a way to reach them.
Is the monitoring station within Canada?
Many companies use out of country monitoring stations to save on costs, but it doesn't always mean that it's the most secure way of keeping your property protected.
Do they employ their own technicians?
There are a few companies out there that will hire sub-contractors to do the installation of a security system. Do you really want your security information in the hands of a random contractor that works for the company once?
Check their BBB credit score.
You want to make sure they are an accredited company who has a good standing record.
Ask if they will sell your contract at any time?
Most people don't know this, but many of the lower priced companies will sign you up on a 3, 4, 5 year contract at a very low price, then take your contract and sell it to another provider. This way they get all the money and none of the responsibility.
Lastly, you can always check their online reviews to see what the community thinks of them. A good company will have more positive reviews then negative, and will respond to any negative reviews to try and rectify the situation.
Don't leave your security in the hands of a stranger, call your LOCAL TRUSTED SECURITY PROVIDER TODAY.
SUPREME SEUCRITY, SEUCRITY YOU CAN TRUST