There are plenty of security systems out there, from motion sensor lights to alarms to video screening, and Calgary security companies are ready and willing to help you install any kind of system you prefer. But when it comes to the various types of protective assets you can install for your home or business, how do you know which one is right for you?
One popular option for residential – and occasionally some commercial enterprises, too – is video doorbell security systems. A video doorbell is a great way to increase the security of your home or business in a quick and easy way. In this blog post, we'll explain how these systems work and some of the benefits they offer.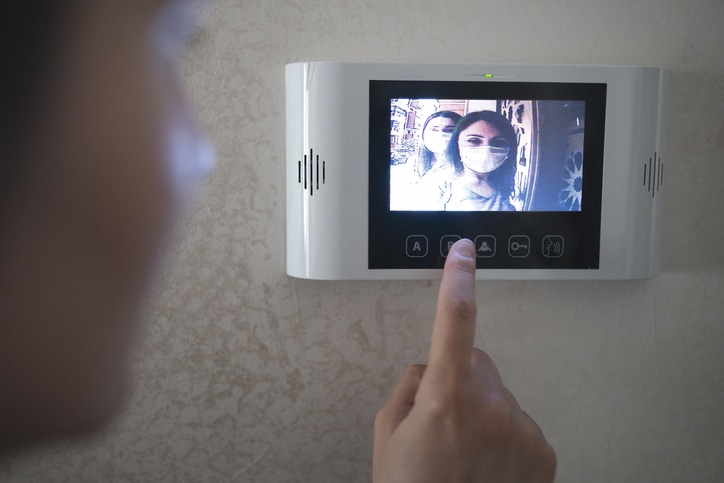 How Video Doorbell Security Systems Work
A video doorbell security system is a doorbell that comes with a built-in camera. This camera allows you to see who is at your door without having to open it. The camera is connected to a monitor or recording device so you can see who is at your door from anywhere in your home.
Most video doorbell security systems come with two-way audio so you can talk to the person at your door without letting them inside. This is an excellent feature if you want to deter burglars or solicitors. And, you can also use two-way audio to talk to visitors who may only be able to hear you if you're near the door. In addition, some video doorbell security systems come with motion sensors that will trigger the camera to start recording when someone approaches your door.
Benefits of Video Doorbell Security Systems
A video doorbell security system is a great way to increase security at your home or business. These systems can deter burglars and solicitors, and they can also provide you with proof if a crime does occur. Video doorbell security systems can also be used to keep an eye on visitors, children, and pets.
When choosing a video doorbell security system, it is important to select one that fits your specific needs. There are many different types of security cameras available, so it is important to compare features and prices before making a purchase. Once you have a Calgary security company install your video doorbell system, be sure to test it regularly to ensure that it is working properly. By taking these simple steps, you can help to keep your home or business safe from burglars and other criminals.
Final Thoughts
If you're looking for a way to increase the security of your home, then a video doorbell security system is a great option. While there are plenty of Calgary security companies ready to install a variety of protective systems, video doorbells are easy to use and offer many benefits, such as deterring burglars and providing evidence if a crime does occur.
Supreme Security is here to help you with all your professional security needs. Proudly serving the people of Calgary since 1985, Supreme Security supplies our community with commercial and private property protection with top-notch technologies to keep your properties secure and safe. Supreme Security is licensed and bonded, and our technicians are fully trained and certified to give you quality service. Professionalism and prompt security installation are a given when you hire our ULC-certified services, and Supreme Security will provide you with access to the latest security equipment to protect your property. Supreme Security aims to maximize the safety of our community with great customized package deals and even greater service.